1955-56-57 Chevrolet SureFit System
Tri-Five Chevy SureFitTM - Now Featuring Gen-IV TM Electronic Technology!
Get true bi-level air flow and Vintage Air's famous "just right temperature" air blending with our new Gen-IV technology. New separate
heating and cooling coils and a SPAL permanent magnet blower motor give you the maximum capacity and performance avaiable
today. You simply plug in our exclusive electric potentiometer module to your factory control assembly for a perfect factory look. No
more cables, manual valves or capillary tube to hassle with.
Vintage Air SureFit Chevrolet a/c, heating and defrost systems are designed specifically for your classic Chevy. The Gen-IV SureFit
systems require no fabrication and are designed to install using existing holes in your dash and firewall in most cases.
The All-In-One Kit For Your Classic Chevy!
EVAPORATOR KIT: Air conditioning, heating and defrost combination designed specifically for your vehicle. Original deluxe control assembly in your dash connects
to our cable replacement modules and controls this unit. Designed to mount to existing holes in your dash and firewall without drilling or fabrication. Evaporator kit
comes complete with all mounting brackets, hardware, louvers, duct hose, wiring harness and installation instructions.
COMPLETE KIT: All above plus underhood kit including condenser and drier package. Attaches to existing V8 or 6 Cylinder radiator mounting holes (see next page
for various radiator/core support combinations). Comes with SuperFlow TM condenser, mounting brackets, standard drier, safety switch, pre-formed aluminum lines,
steel firewall cover plate and all mounting hardware. You must provide v-belts and refrigerant.
NOTE: Some installations or engine combinations may require additional engine pulleys not included with kits.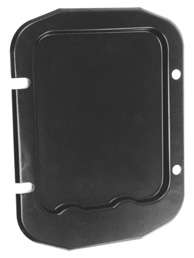 Stamped steel heater-delete panel is included in '57 Chevy Sure Fit kit (Includes rubber grommets).
62758-PCA Plate with holes pre-punched for a/c & heater hose.
64112-VCB Optional plate without holes.

1955-56 Chevy installation with center plenum.


1957 Chevy installation with center plenum.

Gen-IV Sure FitTM System Features:
- Fully electronic Fly-By-Wire controls
- High capacity aluminum plate&fin cooling coil
- Copper/brass CuprobrazeTM parallel flow heater coil
- Molded high volume center plenum vent design
- Optional 4-duct plenum available
- Complete "just right temperature" air blending
- High capacity dehumidified defrost volume
- Smooth steel firewall cover panel
Our exclusive electronic potentiometer modules easily replace the stock cables to convert your stock control panel to the Gen-IV technology.
| | | |
| --- | --- | --- |
| | | |
| OEM '55-'56 Chevy control with supplied potentiometer installed from Gen IV kit. | OEM '57 Chevy control with supplied potentiometer installed from Gen IV kit. | |
Gen-IV Electronic SureFit Climate Control Kits For Tri-5
56155-PCZ 1955/56 Chevy Center Vent Evaporator Kit
96155-PCU 1955/56 Chevy Center Vent Complete Kit
56156-PCZ 1955/56 Chevy 4-Vent Evaporator Kit
96156-PCU 1955/56 Chevy 4-Vent Complete Kit
(No molded center vent - allows use of 4 individual louver locations)
56157-PCZ 1957 Chevy Center Vent Evaporator Kit
96157-PCU 1957 Chevy Center Vent Complete Kit
56158-PCZ 1957 Chevy 4-Vent Evaporator Kit
96158-PCU 1957 Chevy 4-Vent Complete Kit
(No molded center vent - allows use of 4 individual louver locations)
Traditional Cable SureFit Climate Control Kits For Tri-5
55055-VCZ-A 1955 Chevy Evaporator Kit
54055-VCU-A 1955 Chevy Complete Kit
55056-VCZ-A 1956 Chevy Evaporator Kit
54056-VCU-A 1956 Chevy Complete Kit
55057-VCZ-A 1957 Chevy Evaporator Kit
54057-VCU-A 1957 Chevy Complete Kit
Note: Our re-engineered Tri-five Chevy Sure Fit kits now include Tite Fit compressor hard lines. Lines are now rerouted through core support and drier mounts behind.These kits may be upgraded to include our polished Tite Fit line kit and our popular polished Proline compressor/alternator bracket