Vintage Air - SureFit™ Systems
If you are planning to air condition one of the many popular "midyear" cars or pickups, the Vintage Air Sure Fit™ Systems are just what you need. While most early model street rods require a somewhat custom configured package, these later cars usually maintain most of the factory sheet metal and body features which allows us to engineer "standardized" complete systems. The increasing value of these cars and trucks, particularly Corvettes, "pony cars", and muscle cars of the '60's, encourages us to design kits which use factory drilled holes and brackets to maintain your car's value. In some cases very minor adjustments or an extra hole may be required.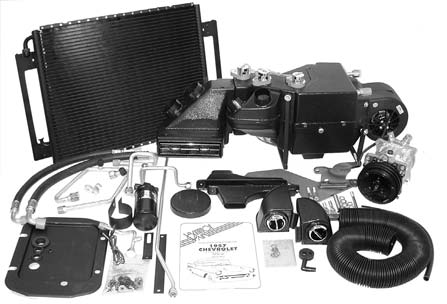 This is because all auto manufacturers made changes to their vehicle assembly designs during production runs. We will always try to minimize any alterations you may have to make.
These kits offer the most complete and straight forward installations available anywhere. Our award winning instruction booklets and carefully designed system package should make your Sure Fit installation job simple, fun and very cool!.
Sure Fit kits are designed to place the evaporator case and hoses completely behind the dash. In most cases the system will be controlled by our adapters for your stock dash controls or with an optional new reproduction control panel. Some early truck kits must use additional switches. All Sure Fit systems provide floor heat and dehumidified defroster. Where originally equipped, a/c air vents through factory dash louvers.
The under hood components are designed to mount to stock engine bolt points and the condenser, in most cases, mounts to stock radiator bolts. Again, because of production design changes you may need to modify some mounting points slightly. Other features such as preformed aluminum lines and condenser mounted drier give these systems a super finished look. The best news is, because the entire evaporator/heater box case is mounted inside behind the dash, this clears the firewall area of your car or truck of those big ugly factory housings! Each Sure Fit kit contains a firewall cover panel to seal off the opening left from the removal of the OEM housing and provides refrigerant line and heater hose routing.
Why replace your worn out OEM air conditioning system with a new Vintage Air "Sure Fit" kit?
Consider these benefits:
1. Sure Fits cost about the same as replacing only an original compressor/evaporator on most cars.
2. Some 1960's and many 1970's cars cannot be calibrated to work properly with 134a refrigerant.
3. You get a full 3 year warranty and a system designed to out-perform your original system. Uses R-12 or environmentally friendly HFC 134a refrigerant.
4. Sure Fit systems retain the factory look inside your vehicle yet improve the underhood appearance
by eliminating all the heavy factory equipment.
5. Optional Proline Series components are compatible with most Sure Fit systems.
6. You get the support of over 500 authorized dealers from coast to coast to help you install and maintain your new Sure Fit system.